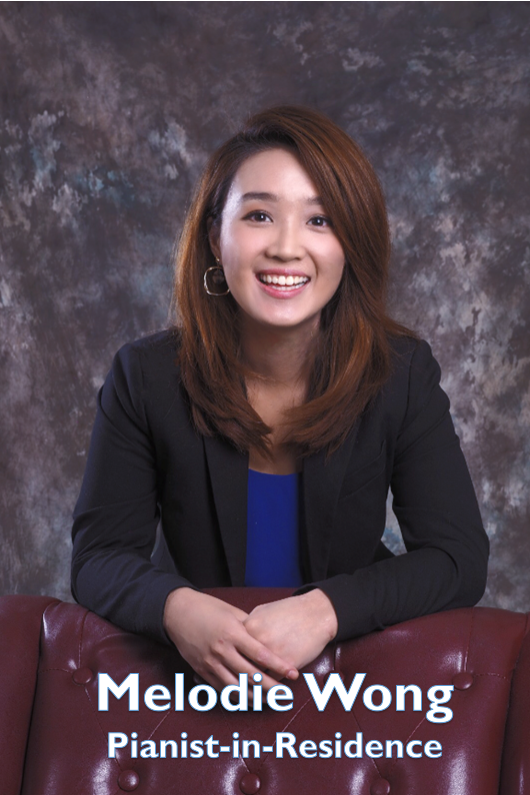 Pianist Melodie Wong has performed in venues around the world, including New York National Opera Center, OPERA America, Casa Italiana Zerilli-Marimo, Frederick Loewe Theatre, Miami Shores, Showa Academia Musicae in Tokyo, and Kyushu University in Fukuoka, Japan. She has garnered several awards in recognition of her work, including the 71ˢᵗ Steinway & Sons International Piano Competition, the 14ᵗʰ Osaka International Music Competition, the 3rd Macau-Asia Youth Piano Competition, Hong Kong Golden Bauhinia International Piano Competition, and the 2nd Japan-Hong Kong International Music Competition, where she was also awarded the Special Jury Prize.
Melodie completed a Master of Music degree and Advanced Certificate in Piano Performance & Pedagogy at New York University under the tutelage of Eteri Andjaparidze. She was selected as the recipient of Dorothy Morse Scholarship, and was awarded the Hong Kong Scholarship for Excellence, honored with the title of Hong Kong Scholar. Melodie received classical training in piano, vocal and cello at The Hong Kong Academy for Performing Arts at an early age, and has obtained LRSM in Piano Performance and ATCL in Cello Recital with Distinction.
In addition to her solo work, Melodie collaborates with artists from various cultures. She has coached with distinguished pianists, including Eduardus Halim, Antonio Pompa-Baldi, Victor Rosenbaum, Alexander Kobrin, Jeffrey Swann and Ilya Itin. She was a member of the Opera Rox Productions, a Manhattan-based performance group, and a collaborative instructor for musical theatre and classical singers at Tisch School of Arts and Steinhardt School of Culture, Education, and Human Development.
A former adjunct piano faculty at NYU Steinhardt, Melodie has taught more than 80 undergraduates individually, and was a music teacher at Greenwich Village School, Park Preschool, Murray Hill Academy and East Side Community School. Being the Manhattan Central Manager at The Piano School of NYC, she actively promoted music education and appreciation through curating piano contests, recitals, school music programs and other events.
Melodie currently lives in Hong Kong, and frequently performs as a solo and collaborative pianist. She is a resident pianist at Paul Phoenix Academy and JUNON Restaurant. While not playing the piano, she likes to compose. Her works in different genres include pop songs, piano and instrumental music.